Rec Plast – A business that cleans Kosovo by recycling 500 tons of waste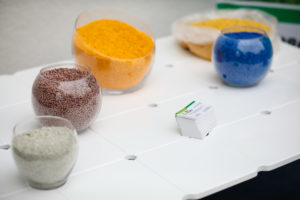 The Kosovo Credit Guarantee Fund is committed to sustainable corporate and social management.  Always coordinating activities with donors, financial institutions and local regulators, we strive to serve the long-term economic interests of the country, the business community and our society in general.
Therefore, we have selected a special business for this success story, businesses that directly contribute in  improving the environment and cleaning the living area, among the collection and processing of waste. Vitomirica, a village near Peja, the region which is known for fresh air and a beautiful nature with landscapes sorrounded by its mountains.
As soon as we arrived at RecPlast, Shefqet, the father and founder of the  businesses we visited, welcomed  us warmly, by sharing with us many interesting stories from his rich life experiences. Until the company's owner (Shefqeti's son) came, we didn't see the great importance of waste collection and recycling.
In a wide space, full of plastic waste, a huge amount of waste that when only imagine the damage that would cause to environment if they were still in the are and roads of Kosovo, than we could understand  how important is the concept of the business of this type.
The waste collected in that space, is  sorted, classified and then processed with recycling machines, which are transformed into raw materials. Colorful plastic granules are the final product obtained from a series of production steps.
"Protection of the environment is done by people in need" – stated  Fazqet, Waste is collecetd by the people who are economically poor and whose primary job is to collect waste. Something that should  have been different, but, its needed to create the conditions and adopt policies that would develop the business of this type of business.
RecPlast , during a year, manages to collect and eliminate 500 tons of waste  all over Kosovo.  Thus, our work contributes to a cleaner Kosovo – stated the owner.
Through the loan guaranteed by the Kosovar Credit Guarantee Fund, RecPlast has bought a new recycling machine, which will increase the company's capacity in waste processing and recycling.
When all these efforts of collection of the waste, are translated into the positive impact this business plays  a cleaner Kosovo, thus we will understand and support more these kind of businesses.