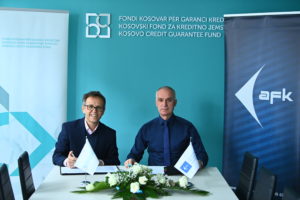 Today, in the premises of the Kosovo Credit Guarantee Fund (KCGF), was signed the Credit Guarantee Agreement with AFK – The Agency of Finance in Kosovo , to guarantee agricultural loans within the KCGF Agro Window.
This event marks the further expansion of the agreements that KCGF implemented with Microfinance Institutions by offering agricultural loan guarantees to local farmers and Agro businesses.
Agro Window is a guarantee scheme within the KCGF in order to support farmers and Agro businesses by guaranteeing loans for this sector.
So far, about EUR 33.6 Mio; agricultural loans have been guaranteed and there are around EUR 11. 4 MIO active guarantees within this sector.
The total capital of Agro Window reaches the value of EUR 11.5 MIO which is fully financed by the German Government, through the German Development Bank – KfW.