VE-TRO-ISOL AG Sh.pk. – GO HEALTHY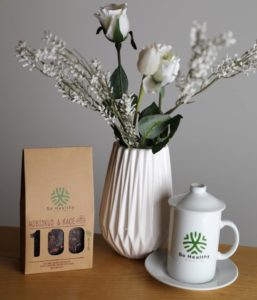 The road to Ferizaj is always pleasant, because each time we visit the area, something has changed: new businesses, new constructions, investments, creating the real impression that a lot's of work is done here. This time we visited a special business in this city, VE-TRO-ISOL AG Shpk is a business wwe were warmly welcomed by the owner Mr. Skyfter Ajvazi.
The smell of different herbs was felt everywhere, as well as the smell of various fruits collected and then dried and preserved, that are prepared for export. "Different herbs from the soil of Kosovo are collected by the locals and brought fresh, products for which we take care to dry and preserve, always natural and 100% organic, which are exported mainly to Italy". told us Mr. Ajvazi.
The sllogan of our business is to have a quality and pure organic products, so that the customer can enjoy the flavor of real tea. We produce nine different types of tea: mountain fruit tea; peppermint tea; linden tea; green; wild apple; chamomile; hibiscus as well as orange, lemon and ginger. Also, mushrooms of special types are dried here: porcini and chanterelle." – said Mr. Ajvazi.
VE-TRO-ISOL AG Shpk has eight regular employees, and each season, depending on the need, it employs 20-50 seasonal workers who collect tea and various fruits. In our company, workers are the main assets. We as employer offer for them good working and employment conditions.
Businesses in Kosovo are facing the challenge of liquidity; Debt collection is often challenging. Therefore, loans help us and facilitate access to finance whenever we need to make an  investment. The recent loan guaranteed by the Kosovar Credit Guarantee Fund, has made possible the  investment to  purchase different products, which has been processed in order to fulfill the demand for export. Thus, we managed to export about 200 tons of products per year!
The brand "Go Healthy", as part of the business VE-TRO-ISOL AG Shpk, proved to be a special brand, which is positioned in our market and abroad, as a brand that offers guaranteed quality.